The DigitalFirst Retail Management Program​
DigitalFirst Retail Management Program is a comprehensive journey to enable Retail Professionals to reinvent themselves for managing retail in a digital age. Retail today is only digital retail. The program takes a customer-centric approach to retail. Customers today are digital natives and choose to buy where they want, and when they want, not limited by location, point of sale, supplier, geography or price. Brick and mortar stores are embedded in a digital ecosystem. The separation of brick and mortar stores and e-commerce is a false dichotomy. So is the visualization of e-commerce as a channel.
Customer Driven, on a Digital Infrastructure
Business performance and Data Analytics
5. DISRUPTING VALUE CHAIN
Business Models of Digital Retail
6. DIGITAL TRANSFORMATION
Managing Digital Transformation, Marketing and Analytics

Starting Date: May 3, 2021

6 Online Sessions
2.5 hour classes
View the Program Brochure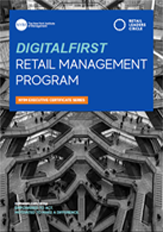 This is it! Finally, something definitive about what it takes to win the battle for share of customers' hearts, minds, and wallets.
EVP of Strategy and New Business Development
Esteé Lauder Inc.
Give us a call or drop us a line to discuss the right solution for your needs.