Tailor-Made Solutions That Steer Your Organization Ahead
Today more than ever, organizations around the globe are facing uncertainty. New York Institute of Management's custom programs can support your organization in responding to external or internal critical challenges and to drive change.
For organizations with ambitious goals, New York Institute of Management (NYIM) offers innovative and award-winning customized executive education programs that enable you to develop your talent and address your specific business objectives.
We partner with leading organizations to help develop the leadership teams they need to succeed. We work with them to customize the experience for their employees and help them impactfully transform or expand their business model, launch strategic initiatives, or develop your leaders' competency. 
We provide a robust catalog of online programs that can be combined to create a unique learning journey tailored to your organization's needs.
Self-paced flexible online learning
We offer a variety of programs to address specific organizational needs, all of which grant you access to our world-class faculty. If your choice is for your employees to embark on a self-paced journey with a dedicated learning Tutor throughout the course, we can tailor the content focusing on your strategies. Your teams will work on engaging assignments and self-paced learning activities specifically designed for your organization.

Real-time peer learning that tackles your most important business imperatives.
Dive into our live, virtual format of a well-thought-out, interactive learning environment with an enriched level of peer engagement and networking, and exclusive access to our world-class faculty. The format of these programs encourages participants to challenge and refine ideas, transfer learning to their teams, and continue peer interaction even after the program ends. Our highly interactive methodologies and platforms promote debate and thought-provoking discussions among peers anywhere in the globe.







Depending on your business goals, each customized program can include both online or live elements and on-site learning experience. Our expert team will partner with you to understand your needs and design a program carefully balancing interactive learning with individual reflection. Each component is considered carefully based on the context and duration of your program, your organizational culture, and the most effective way to convey this learning experience to your executives.
Empower your people to navigate volatility and uncertainty to deliver the competitive advantage and sustainable growth you need to thrive. Foster an energized talent pipeline to drive your growth and secure competitive advantage in today's and tomorrow's global business landscape.
Let's design together the program that will create value and ignite the potential of your organization.
The total immersion in the subject for an entire week was very effective and allowed participants to systematically challenge the conventional wisdom and their own thinking The program was very well – organized and the faculty excellent.
Senior Marketing Director
Hudson's Bay Company
Download our brochure and find the executive education program you need.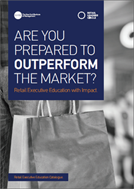 Here are some of the organizations
with whom we have worked with: