The Mini Master in Retail Management
The Mini Master in Retail Management (MMRM) has been co-designed by leading retail academics and senior practitioners from the retail industry to address these challenges. This program will expose participants to learn not only about the strategic approaches to challenging situations, but also about the hands-on, tactical implementations of these strategies.
The retail industry is changing at a pace never before experienced and the differences in the skill-set required to be a "complete retail manager" versus that to be a specific retail specialist are dramatic.
Retailers today deal with increased levels of competition, market sophistication, the growth of the internet, new forms of technology and consumers who are looking for better value together with higher quality service. Staying on top requires retail professionals to be nimble, analytical and educated with regard to the challenging and ever-changing retail environment.
1. High-Performance Management
Module one enables participants to understand their role within the wider business and helps them develop the vital skills required to effectively lead their team and meet organizational targets and expectations.
2. Accelerating Marketing Performance
This module examines new perspectives into the retail marketing discipline as well as a comprehensive framework that presents marketing as a value creating process.
3. Driving Retail Performance
Through analysis of the retail operations front, this module exposes participants to best-in-class practices, critical skills and knowledge necessary to drive profitable and sustainable business performance.
4. Contemporary Retailing and Next Steps
Module four provides participants a strategic look of the retail market and the best methods to win in the highly competitive sector. It also develops them as "complete managers", not just specific retail specialists.
Developed for the modern retail manager charged or about to assume management responsibilities, this program is packed with real-time learning models and video cases, international case studies and best-practice solutions. Do you have what it takes to become a "Modern Retail Manager"? Register today (link to registration page) to make it happen.

12 Online Sessions
3 hour classes
View the Program Brochure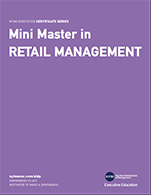 Give us a call or drop us a line to discuss the right solution for your needs.