We Prepare You for the Challenges Ahead
Through leadership assessments, we identify which leadership attributes are vital for your organization. We measure performance, potential, readiness, and fit to help you select and promote decisions with more confidence than ever before.
Leadership Assessment is an evaluation methodology to assess the leadership competencies of top and middle level managers as well as to benchmark the existing management team of the company against the current market. It is related to a specific set of criteria, (specific for position, role, or managerial level), based on professional and documentable observations and measures. Leadership Assessment can be a transformational experience for leaders, especially when combined with on-going executive coaching, a leadership development program or as part of a leadership team development project.
Focus on the Best Solution, No Playbook Needed
Based on the combination of personality and colleague feedback data, our assessment solutions provide a full strengths profile for each leader, identifying natural strengths on which to build, potential strengths for development, fragile strengths to support, and resistant limitations to work around. We provide organizations with a clear understanding of the talent they need, the talent they have, and how to close the gaps. It enables them to have the right people in the right place at the right time to successfully execute their business strategy.
We Measure
We Assess
We Deliver
We Measure
Our top experts conduct proper interviews & tests to effectively measure personality, behaviors, and capabilities.
We Assess
We Deliver
Our Methodology: We Lead You to Success
Our methodology utilizes well-validated and bench marked measures of personality, behaviors, and capability. These are coupled with an interview with a highly experienced and business-focused organizational psychologist to provide leaders with in-depth analysis of their current impact and opportunities for development. We understand context highly impacts leaders' success or failure, so our assessments are grounded in each leader's unique and detailed context.




Candidates complete psychometric assessments online, including 360° feedback and in-depth interviews. Our psychologists work with participants to integrate these into clear, insightful developmental reports. A feedback and coaching session might follow to frame the participant's development plan. We also foresee follow-up tools or sessions that help to ensure changes or improvements occur and the assessment provides a return on investment.
Our web-based leadership assessment solutions deliver a vigorous, cost-effective, and integrated approach to assessing leadership capability and potential along with comprehensive results and actionable insights.
Programs in the Spotlight
Explore our leadership programs. Sharpen your skills, ignite growth & inspire!
Programs in the Spotlight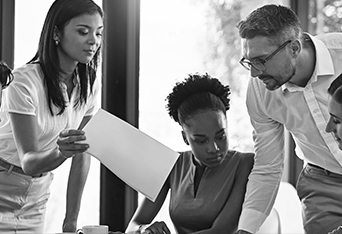 companies across 3 continents
were provided our custom programs

of those taking NYIM programs
were provided our custom programs

course evalutiaion out of 5
Women in Leadership Program
Date:
Format: Online / 12 sessions
Duration: 3 hours/ session
Tuition: $3,450
Hands—on program that nicely blends theory and practice. The faculty was very engaging and helped me think critically about real business problems.
Strategic Planning Director
News Corporation
Contact us to discuss your potential.