Improve Your Skills From Virtually Anywhere
The pandemic has changed once and forever the way we live, work and learn. Given the need for knowledge is always vital to surpass any challenges, our goal at the New York Institute of Management is to provide executives with online educational solutions they need no matter what.
As you strive to foster the growth and effectiveness of your team, you need a partner with essential experience and flexibility. Adapting to constantly changing circumstances, we have converted all our on-campus courses to online programs.
At New York Institute of Management (NYIM), we offer you powerful knowledge and tools you need to develop your skill set as a leader and increase your competitive edge. Our online programs tap into cut­ting-edge technologies to ensure you reach your goals. Our on­line classroom experience enables our educators and students to focus on collaboration and experiential learning through the use of live classes, self-paced coursework, case studies, live projects, group work tools and interactive multimedia activities.​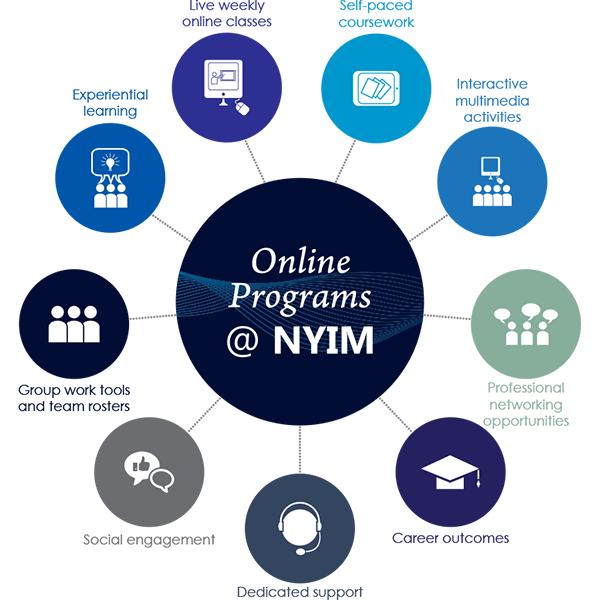 ​With features that enable information sharing and so­cial networking tools, executives are empowered to solve their common challenges at work even though they may be six time zones away.
Our live, virtual format offers an interactive learning environment, a high level of peer engagement and networking, and exclusive access to New York Institute of Management faculty.
Learn at your own pace with the same impact.
A powerful roster of programs in retail and commerce, digital transformation, and leadership is provided by our highly experienced faculty offering a unique learning experience with the same rigor and impact as our on-campus programs. You' ll be supported by our experts as you engage through this innovative learning process while you will receive rich content that will improve the overall experience.
By choosing this flexible format of asynchronous learning, executives succeed in balancing between personal and professional busy lifestyle, stay committed, achieve real improvement, and meet their goal.

Real-time engage with impact.
In our online classroom, you will learn from faculty, network with peers, and utilize collaborative tools that help facilitate your learning synchronous experience. With a high level of interaction, executives will experience an unparallel learning process that makes a real impact in their life-long learning journey.
No matter where you are, you have the unique opportunity to connect with executives from all over the world, exchange influential ideas, discuss the modern challenges, and find the proper solutions to tackle them with the support of our experts.

Our online programs feature new and emerging technologies, proven instructional environments, and pedagogies to improve learning out­come and increase your ROI.

Participants are able to follow the program regardless of their geographic location, travel schedules and current job responsibilities.

The executive design of the online curriculum allows partici­pants to implement new knowledge and skills immediately in their workplace.
This is it! Finally, something definitive about what it takes to win the battle for share of customers' hearts, minds, and wallets.
EVP of Strategy and New Business Development Esteé Lauder Inc.
Download our brochure and find the executive education program you need.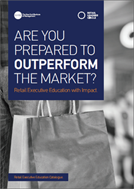 Give us a call or drop us a line to discuss the right solution for your needs.